Description
Spray Foam Genie is a uniformed Spray Foam Insulation Application business. Spray Foam Genie specializes in spray foam insulation. SFG team works tirelessly to provide you with high quality insulation you can trust.
Our Spray Foam Installation Services:
Crawl Space & wall Encapsulation
Retro Attics
New Construction
Open and Closed Cell Foam
Slow Rise Foam Injection
Concrete Lifting and Leveling
Spray foam insulation is more energy-efficient and provides a higher R-value on average than traditional fiberglass and blown-in insulation. This means a house that warms and cools itself more efficiently without using central air.
Spray foam insulation is very durable due to its chemical composition. It's essentially water and pest proof, and should remain in your home long after you're gone. Spray foam insulation helps you never worry about insulation again.
The seal provided by open-cell and closed-cell spray foam insulation protects you and your home from mold and mildew damage. Roughly 15% of Americans are allergic to their home, ultimately because of improper sealing and insulation installation. Whether working on a new build or insulating an attic space, we can help you keep moisture out and your health protected.
The candidate we are looking for is a people person with management skills/tendencies and solid financials. This is a great model for someone that wants to grow a larger business and develop it over time.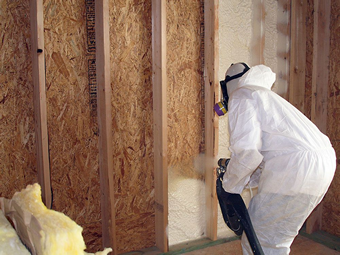 Three Ownership Options:
Franchisee Investor (Passive) – Franchisee acts as "Investor" - Corporate will set up and manage the business for the Franchisee
Semi-Absentee (Part-time and can keep your job) – Franchisee will manage a manager, run the budget, proforma, and oversee the company. Corporate will train the Manager to run the business for the Franchisee.
Owner-Operator (Full-time) – Franchisee will run the day to day of business. This includes marketing, hiring and managing employees, goal setting, and achieving. CEO role/Manager.